The complex fight for immigration reform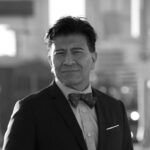 By Chamba Sanchez
•
September 18, 2017
Once it was known that the President had ended DACA, there were marches and rallies throughout the nation. Atty. Gen. Jeff Sessions called for a press conference and spewed venom and screamed at top of his lungs outright lies about immigrants.  Yes, the usual venom used by nativists, i.e., "illegal aliens," and "these immigrants take jobs from Americans."  It truly was a mean-spirited press conference. He also mentioned legislation in Congress being supportive by anti-immigrant forces, the "RAISE Act," a bill in the Senate that will cut legal immigration in half.
Most rallies and marches solely centered on DACA and the dreamers.  I have always said that there was going to be a revolution in this country had this president attempted to kick out these productive immigrants who have contributed greatly to this nation. Indeed, it was clear that the majority of Americans support these immigrants.  And any attempt to deport them was going to be met with intense political pushback.
Although "Illegal immigration" was a signature issue for President Trump while campaigning for the White House. It has been reported that the President has cut a deal with congressional Democratic leaders in legalizing these young people. This is significant if we take into account how paralyzed Washington has been and for how long the immigration issue has been debated. We should all do whatever we can to make sure the Dreamers get legalized. Although we should also endeavor not to lose sight of the prize.
Democratic Congressional leaders vehemently denied that money to fund the wall was part of the deal. The following morning, after democratic congressional leaders dined in the White House,  the President tweeted that the path to citizenship for the dreamers was not part of the deal that yes "if there is no wall, we are doing nothing.  People are confused and all of us who care about undocumented immigrants in this country are just waiting to see the final compromise once it is written on paper.  Although I have to say it doesn't look good. For all the goodwill President Trump has displayed this week, one could easily argue that the only consistent thing about him is being inconsistent. Some of his most ardent supporters are scratching their heads.  Since Trump, while campaigning for the White House, gave that infamous speech in Arizona where he promised and vowed to reverse DACA and deport the Dreamers
Trump's decision to reach out to the Democrats has been dubbed as a "Nixon-China movement."   Details have not yet been revealed and it is being speculated that Trump is playing both Nancy Pelosi and Chuck Schumer.  Pundits are still trying to figure out Trump's strategy.
Democratic congressional leaders may have a more difficult time trying to persuade their democratic base. Progressives don't want them to get too cozy with this President.  There are also immigrants' advocates out there who might be tempted to reject legalization for the dreamers and push for legalization for all the eleven million undocumented folks.  House Minority Leader Pelosi heard from them recently in her district in San Francisco. These activists are well-intentioned but they are totally disconnected from the facts on the political landscape.  Voltaire once told us, "Don't let the perfect be the enemy of some progress." Yes, let's legalize the Dreamers and take on the fight on the other ten million undocumented immigrants in our communities.
Some progressives dislike seeing Pelosi and Schumer "normalizing" this president whom they see as unfit to serve as President. I have always said that these democratic leaders must make an effort to work with this president as much as they can without betraying some democratic core values.  However, if this is not feasible then they should go for an all-out-war with this man.  There will also be a predicament here, how do these democratic leaders work with this president and turn around and excite the Democratic base for next year's congressional elections and two years presidential elections?  This will require imagination, a robust strategy and a plan of action. Three things that usually escape these democratic leaders.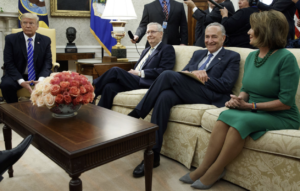 In the name of compromising, many Republicans are having a field day and see the opportunity to legalize the dreamers while injecting all kinds of anti-immigrant provisions to the bill.   Indeed, a border wall and more policies that mirror the RAISE Act, as well as mandatory participation in E-Verify, the electronic employment eligibility verification system they are all being considered part of legislation that will legalize the dreamers. Neither immigrant community leaders nor the Democratic leadership has the leverage to negotiate immigration policies that would advance the collective interest of our communities.  Most experts or pundits believed that the DACA's recipients were going to be in no danger since the majority of Republicans thought that these young immigrants were embedded in their own communities and they needed to be given a chance.  Even disgraced and anti-immigrant, Joe Arpaio thought it would be immoral to deport these young immigrants.
Finally, California has 55 members in Congress and is the home of Democratic Minority Leader Pelosi and the second-highest-ranking Republican in the House, Rep. McCarthy.  Yes, California has the largest delegation with 53 members in the House and 2 US Senators.  California delegation should lead this effort pushing for a version of the Dream Act that includes a path to citizenship.  California Rep. Kevin McCarthy should use the power of his position to push Speaker Ryan for generous legislation for the Dreamers.  Rep. McCarthy also represents a district in the Central Valley that is the home of many immigrants who need legalization. These Republican representatives here in California can no longer take an extreme position on immigration.  That would be politically suicidal. Democrats need 24 seats to win the House back next year.  They currently strategizing their focus on 14 Republicans located here in California. The demographics have radically changed in these fourteen districts being represented by Republicans.  They now have large minority voters.
Thank you for reading.
__________________________________________________________________________________
Sources consulted.
Bierman, Noah.  "A risky embrace."  Los Angeles Times 15 Sept. 2017. Web. 17 Sept. 2017
Finegan, Michael and Mark Z. Barabak.  "Trump's backers learning to be flexible." Los Angeles Times 16     Sept. 2017. Web. 17 Sept. 2017.
"Here's a solution to the DACA crisis: Pass a Dream Act. And soon." Editorial. Los Angeles Times 7  Sept. 2017. Web.2018.
Mascaro, Lisa, Briuan Bennett and David Lauter.  "Hope for resolutions to 'Dreamers' dispute." Los Angeles Times 15 Sept. 2017. Web. 17 Sept. 2017.
Politics. "President Trump, top Democrats reach agreement on young immigrants." ABC 7.com Sep 13 2017. Web. 16 Sept. 2017
__________________________________________________________________________
Photos Credit:
Pelosi, Schumer and President Trump – (AP Photo/Evan Vucci)
The picture with the man holding up the "SAVE DACA" sign I took it in one of the rallies that I attended