The homeless crisis in LA is grotesque, unfair and it underscores lack of political imagination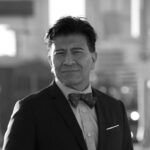 By Chamba Sanchez
•
March 29, 2018
No hyperbole here, but Los Angeles is teetering on the brink.  The quality of life in this city is not sustainable when in every other block in Los Angeles we find homeless people living in tents.  The lack of progress is so pronounced that many Angelinos are so disgusted and frustrated.  The blight and misery in the streets of Los Angeles are of biblical proportions.  At this point,  they might be worse than one might see in Tijuana when crossing the border or even worse than the ones in the barrios of Honduras.
Los Angeles Times devoted an entire week of editorial pieces to unload its harsh criticism of this problem.  The paper actually called it "a national disgrace." You know our city has hit rock-bottom when it is in on the United Nations radar for failing to help those living in extreme poverty.  In December last year,  a United Nations Special official who focuses on extreme poverty descended on the streets of Skid Row. The official walked through the place filled with misery and despair.  It was part of an endeavor of a-fact-finding tour on poverty.   The ultimate irony here, California the richest state in the wealthiest nation on the planet is unable to deal with extreme poverty.
This homeless crisis has spun out of control in Los Angeles.  That call for urgency has been made but the actions taken are evidently not substantive enough.  Progress has either been too slow or ridiculously incremental.  Moreover, this crisis has not only revealed a profound lack of imagination and political courage among our civic leaders. But it has also, it can be argued, demonstrated a crisis of competence and credibility.
A couple of months ago, it was reported that, at any night, there were 1,800 homeless people at Skid Row with nine working toilets. This is so outrageous! It shouldn't be that hard for our city's leaders to provide more toilets for poor homeless people.  It is also a potential public sanitation problem. Providing more working toilets for these unfortunate people should be the sort of short-term solutions that our civic leaders should be able to do with no sweat.
The conversation as to how deal with the homeless problem usually centers on moral grounds or civic responsibility.  The former focuses on helping them in finding housing and do whatever is possible to help them to reincorporate back into their communities. The latter see homeless people as public nuisance and city's leaders marshal public safety resources to remove them from the streets.  This is a disgrace and should be rejected. Jailing homeless people is not only inhumane but it also takes away resources that could be utilized more productively for some sort of housing and services that could include mental health.  It has been widely reported that out of the $100 million spent last year helping homeless people, shamefully $87 million went to law enforcement.
Experts have categorized the homeless population into three categories: The derail, the disabled,  and the dysfunctional.   Those under the derail categories:  People who were economically struggling and were living paycheck to paycheck. They either became sick or lost their jobs.   The disabled:  People with mental problems and physical challenges that need help surviving.  These individuals might need help even by just taking daily medication. And then we have the dysfunctional, these are very difficult to help.  They are chronic drug users and might reject stable housing as they have become comfortable with the "chaos in the streets."
Here is some statistic information about this crisis: Currently, there are 34,000 homeless in Los Angeles and 58,000 in the entire county.  And, according to the Los Angeles Homeless Services Authority, "more than 5,000 of LA county's 58,000 homeless people are children and more than 4,000 are elderly.  About one-third of these individuals have major problems with mental illness. Some 40% of them are African-American. Also heavily represented: Veterans. The disabled. Young people from the county's overwhelmed juvenile justice system and its foster care programs. Men and women just released from jail, without the tools or skills needed for reentering society. Patients released from public hospitals."
Dr. King told us, "we are caught in an inescapable network of mutuality, tied in a single garment of destiny." If we internalize that then we will realize that we are connected together and that one's misery in our community will threaten our liberty, undermine our democracy and will disrupt the marketplace.  Los Angeles is a progressive community and most people living in LA don't want to feel that they are turning their back on their fellow man's misery. "The mad, the afflicted" and those who are sleeping in the streets because they are unable to pay for their rent must be helped.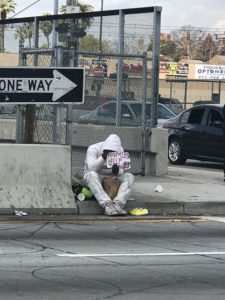 There are some of us who believe that homeless people deserve compassion and must be helped.  And there those who want safe, clean and free streets.  It is not easy for many cities facing this problem trying to strike a delicate balance between the needs and rights of homeless people and the needs and rights of everyone else leaving in these cities.  In the end, it boils down to the quality of life in communities, which is unattainable when homeless people are living in tents in the streets.
How did it get this bad?  In the last decades, homeless people were being viewed as an inconvenience and as an eyesore to the new urbanization taking place in Los Angeles.  Developers used their power in city hall and demanded these homeless people be removed from places where very expensive lofts and condominiums had been built.  Public safety resources were spent on attacking the poor and homeless people. It is fair to say that our civic leaders viewed this homeless problem as a problem of visibility and not an intractable social problem that needed to be solved.
Of course, this homeless problem is a community problem.  Therefore, it will require a community response.  That means that everyone in Los Angeles has to play a role in finding solutions to this problem.  Having said this, citizens in Los Angeles want to see more visionary and bold leadership when dealing with this problem.  A mayor actively campaigning for president and city councilmembers caving into the forces of NIMBYs is not helpful.
Voters in the city are not oblivious to the problem.   They have seen the misery and want to help out.  They have agreed to two measures, Proposition HHH which authorized  "$1.2 billion in bonds to build 10,000 units of housing for homeless and low-income people." And Measure H that raised the sales tax within the city.  Money raised from this measure will be utilized to provide services to the thousands of homeless people in the city.
The time for timidity and political expediency is over.  We need our civic leaders to step up and grow some backbones. Having each council member to pledge to build 222 units for the next two years is a step in the right direction.  In light of the profundity of such a crisis, our civic leaders need to do more. We have also heard from councilmembers who passionately tell us that they are willing to do whatever it takes to end homeless in this city.  And yet it was recently reported that these very same councilmembers are actively rejecting projects that would alleviate homelessness in their own districts.  They refuse to provide a letter of approval needed for such a project to move forward.
This is another situation in which a silent majority shouldn't allow a loud minority of selfish homeowners, and spineless politicians to dictate where to build housing for these homeless people.  Let's stand up to these people so we can see progress in this crisis.  Yes, let's tackle this homeless crisis with vigor, boldness, and compassion.  This great city deserves no less.
Thank you for reading.
Chamba Sanchez
_________________________________________________________________________________
Sources consulted.
Chiland, Elijah. "LA sanitation needs $17M to keep up with homeless encampments."  Curbed Los Angeles 22 Feb. 2018. Web. 27 March 2018.
Do, Anh. Carcamo, Cindy. "Orange County supervisors scrap emergency homeless plan after cities push back." Los Angeles Times 27 March 2018. Web. 28 March 2018.
Jeff, General.  "United Nations Investigation Visits LA's Skid Row … the World Needs to Know! CityWatch 14 Dec. 2018.  Web. 28 March 2018.
"L.A. has a long history of failure on homelessness. It needs leaders who will take responsibility."  Editorial.  Los Angeles Times 2 March 2018.  Web. 27 March 2018.
Medina, Jennifer. "Los Angeles Puts $100 Million Into Helping Homeless." New York Times 22 Sept. 2015.  Web. 27 March 2018.
"The gentrification of Skid Row – a story that will decide the future of Los Angeles." Guardian 5 March 2015. Web. 27 March 2018. 
____________________________________________________________________________________________________
Pictures Credit.  I personally took one and the other pic was obtained from Bigstock.