He came. He played. He conquered.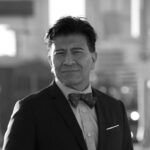 By Chamba Sanchez
•
February 24, 2020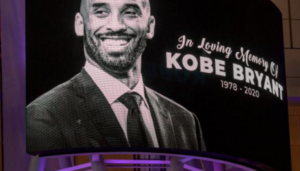 After it was confirmed that Kobe Bryant had died, the love for Bryant was immediately displayed throughout the entire city's infrastructure.  From downtown's highrises to arenas to government buildings, they all began to bleed yellow and purple from their highest windows.
Angelenos grieved in many ways; some just went down to L.A. Live and took flowers; others went down on their knees and prayed. Many murals were also being painted throughout Los Angeles at the speed of light.  Others were glued to their TVs watching Bryant's best moments playing basketball.
Indeed, in the last three weeks, many Angelenos forgot all the daunting challenges the city is currently facing.  The profound lack of civic leadership, the housing crisis, the thousands of tents occupying the streets of the city, and even the impeachment of the leader of the free world escaped many.
Today,  Feb. 24, 2020, the city of Los Angeles celebrated the life of one of the best basketball players the world has ever seen.  Twenty thousand fans gathered at Staple Center and celebrated the life of Kobe Bryant. The date 2/24 was carefully selected, No. 24 jersey Bryant wore and the No. 2 was the jersey his daughter, Gianna wore.
The four Kobe Bryants the world knew: The athlete, the caring father, the philanthropist, and the imperfect being who disappointed us.
Kobe, the athlete, might not have been the best basketball player who ever played the game but this man was right there standing tall among those giants.  Come on, the man scored 60 points in the last game when he retired in 2016. Who does that?  In his twenty years in the NBA, he won five championships, two NBA finals MVPs, two Olympic gold medals. The man was a competitive athlete who would do anything under his power to perfect his craft. Indeed, this man deserves an honored place in the pantheon of giants.
Kobe Bryant, the philanthropist, was always looking for opportunities to give back.  Bryant understood the responsibility of using his skills and being in the spotlight. He made time for charities that were helping children of color who lived in poverty. He was an honorary ambassador of After School All-Stars, an organization that helps schools to provide after school hours for poor children of color.   He also raised money for this organization in Los Angeles that serves nearly 15,000 children. In addition, Bryant lit up children's world, through the Make a Wish Foundation, by granting 250 wishes to children facing life-threatening illnesses. This foundation publicly put out a statement praising Bryant for being an "amazing wish granter who had brought countless smiles to children and their families."
Kobe Bryant was a caring father. Many were filled with awe seeing Bryant's display of love for his daughters.  He unconsciously might have been attacking that stereotype that we, men, must have sons.  Social scientists always like to see celebrities taking profound pride in their daughters by displaying love for them in public.  These scientists argue that it is a tool that can be used to promote gender equality.  Those of us who have daughters need to seize on the opportunity to carefully evaluate potential problems that we might have with sexism or even masculinity.  Fathers will always want a better world for their daughters.  Moreover, a byproduct of that advocacy is that these fathers are building a fairer world for all daughters of the world.
Kobe Bryant didn't leave a pristine legacy behind.  Of course, he was not a perfect man.  Nonetheless, we should always look at the totality of one's record. In 2003, Bryant was accused of sexually assaulting a woman in Colorado.
There has been a great deal of controversy as to how we should try to find a fair balance of all the great things this man has done while still looking into those lapses he encountered in his early adult life. His fans were furious that people were talking about his sexual assault accusation right after he died while his family was mourning.  Others were angry for all the deferences and tributes that were given to a man they considered a "rapist."   We have seen athletes who committed crimes at the peak of their professions and were never able to come back.  Mike Tyson comes to mind.  Bryant appeared to have had found opportunities in these trying times. It must have been tough, Bryant found himself in the deepest valley in this ordeal. But he managed to elevate himself to the highest mountain again.  He appeared to have gained clarity and purpose and became a better player, a better husband, a better father, and a better being.
After a month-long of collectively mourning the loss of Kobe Bryant here in Los Angeles, fans finally gave him a final goodbye this morning at Staple Center.  People from many walks of life gathered to pay tribute to the man who gave five championships to Los Angeles. Hollywood people, Lakers fans, retired athletes and those who adored Bryant surely had an emotional day, as some of them are still in shock for his passing.
He came. He played. He conquered.  As soon as Kobe Bryant came to Los Angeles to play for the Lakers, he became Los Angeles' favored son. Bryant came from Philadelphia, but somehow, he managed to weave himself into the fabric of our city.  As an outsider, Kobe Bryant embraced Los Angeles, and the city reciprocated in-kind.  Bryant epitomized many of us who have made Los Angeles our home.  With little effort, the man could go from speaking Spanish to speaking Italian to speaking English. He was also a soccer fan who liked high-level soccer games, he loved AC Milan and Barcelona.  He truly was a cosmopolitan man.
The day Kobe Bryant died was one of those moments that people will always remember exactly where they were and what they were doing when they learned about the tragedy.   Many were in disbelief as they saw a still young Kobe Bryant starting the second phase of his life with the same enthusiasm and optimism as he played the game he loved. It was very telling that this man was going to channel all his competitiveness, tough mind, creativity in this second phase of his life. And in just two years, while he was doing philanthropy work, he managed to win an Oscar.
The man who brought the entire city together in parades to celebrate five championships for Los Angeles Lakers brought the city together one last time. Kobe Bryant's fire, caring and optimism will forever live in this city.
Thank you for reading.
_______________________________________________________________________________________________________
Photo Credit: Picture used in this pice was taken by author with an Iphone 11
Sources consulted:
Bishara, Motez. "He was born to play basketball, but for Kobe Bryant that was never enough." CNN 29 Jan. 2020.
Dougyala, Rishika. "Politicians hit pause after Kobe Bryant's death." Politico 26 Jan. 2020.
Lee, Lauren. "Honor Kobe Bryant's legacy through the charities he supported." CNN 21 Feb. 2020.
Morrison, Patt. "As L.A. says goodbye to Kobe Bryant, it's worth asking why some fame lasts, and some vanishes." Los Angeles Times 21 Feb. 2020.
Plaschke, Bill. "Kobe Bryant is gone; the Mamba lives forever in the heart of Los Angeles." Los Angeles Times 21 Feb. 2020.